Kangen Water Johor is the pioneer in distributing Kangen Water machines in Johor, Malaysia.
Kangen Water is a delicious water created from Enagic's innovative water technology. Not only do these devices filter your tap water, but the machines also produce hydrogen-rich ionized alkaline and acidic waters through electrolysis process. These waters can be used for various purposes, that include drinking, cooking, beauty, and cleaning.
Kangen Water® contains various vital minerals, such as calcium, sodium, potassium, and magnesium that are very important for the natural health of our bodies.
Unlike other filtration systems that filter out even helpful minerals, Enagic's Kangen machines' filter will keep these minerals intact. This provides a high-quality water that can be used for many different purposes.
What Is So Special About Kangen Water
Anti-Oxidation
Anti-oxidation in liquids can be measured using an ORP ( Oxidation Reduction Potential ) meter.
Oxidation cannot be stopped, however, research indicates that the process can be slowed down with antioxidants.
Anti-oxidants are essential for combating oxidative. stress of our bodies that is caused by free radicals that are present naturally in our environment.
We have all seen the effects of oxidation in nature, for example:
Rusting of metals
Decomposing of plants
Decomposing of fruits
Wrinkling of our skins as we age
The higher the negative reading (ORP) or Oxidation Reduction Potential (higher antioxidant), the more effective the reduction of oxidative stress from our body, minimizing the risk of a variety of health related diseases.
Kangen water machines can produce high anti-oxidant level measured compared to many other different liquids. (approximately  "– 470" to "– 800" ORP)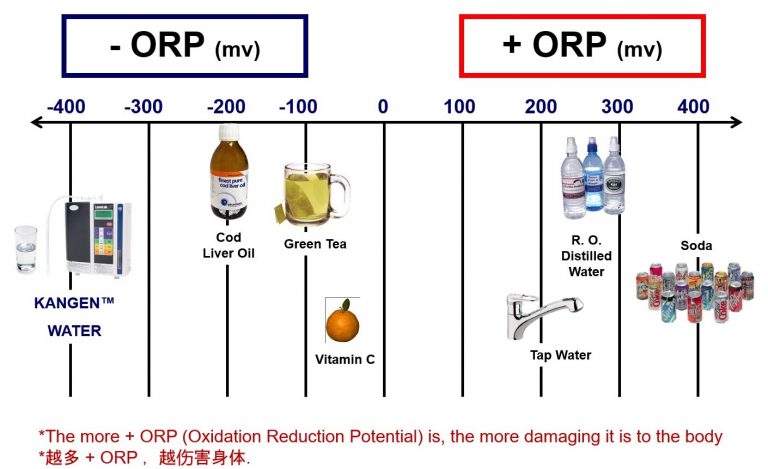 Alkaline In Nature
The majority of people in the modern world leads an acidic lifestyle. We tend to eat a lot meat (acidic), drink a lot of carbonated drink (highly acidic), beers, experience negative emotions (stress), and not having enough sleep and so on. This very unhealthy lifestyle can turn our body into an acidic state, and resulted us to be very susceptible to all kinds of sickness and diseases when our body immune system is lowered.
Thus, balancing the natural acid-alkaline of our body becomes one of the essential steps to our body's well being.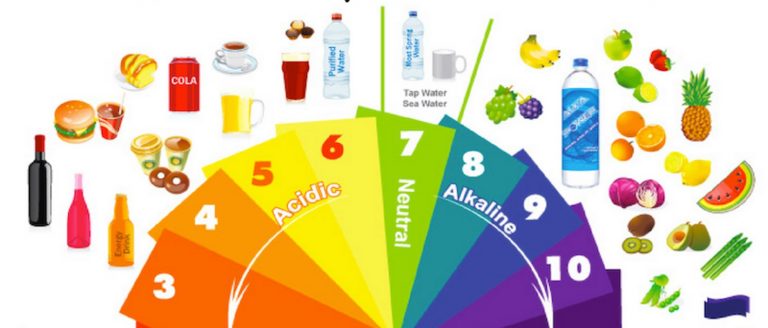 Micro-Clustered Water
Approximately 75% of our body contains water. Our body needs water to carry out various activities like transporting nutrients, oxygen, blood through the body and removing wastes out of the body through sweats, urines and bowels.
Therefore, the "smaller" the water or rather the less clustered the molecules of the water we drink, the better our body will be able to absorb it, the more hydrated we will feel.
Staying hydrated is highly important for us whenever we carry out our daily activities. Staying well-hydrated helps us to increase our stamina, keep our mind alert, and think better.
Hydrogen-rich Ionized water has better hydration ability due to the micro-clustering of the water molecules after the ionization process. Non-ionized water molecules are found in clusters of 10 to 20 molecules while ionized water are found in clusters of 4 – 6 molecules.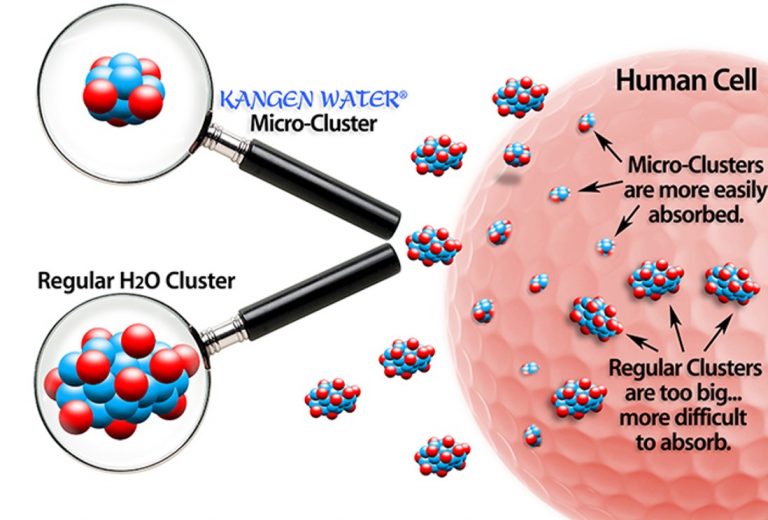 A Live demo showing the Micro Clustering of Kangen Water
How Many Types Of Water Can A Kangen Water Machine Produce?
All the Kangen machines can produce 5 different types of water, namely:
Strong Acidic Water ( below pH2.7 )
Strong Kangen Water ( over pH 11.0 )
Kangen Water ( pH8.5 – 9.5 )
Beauty Water ( pH4.0 – 6.0 )
Clean Water ( pH7.0 )
Strong Acidic Water
Strong acidic water has excellent disinfecting power that can prevent food poisoning, spreading of diseases through open wounds etc.
We can use it to :
sanitize our knives, cutting boards or dish towels
remove tea incrustation
sterilize our fingers
clean our skins
sanitize wounds from bacteria infections
Strong Kangen Water
Strong Kangen water has a strong cleaning effect as a detergent, preserving hygiene in our daily life. We can use it to:
clean cutting boards, knives and dishes
sterilize vegetables, meat, and fresh fish
remove slime and stains on the floor
remove stains from the toilet
remove spots from coffee, soy sauce and edible fat
remove harshness of wild plants such as bamboo shoots, brackens or flowering ferns
Kangen Water
Kangen water makes our drinking water and dishes delicious. We can use it to :
cook rice making it nice and fluffy
make coffee, tea or green tea, bringing out the naturally-rich aroma
draw out the natural flavour of ingredients when making soup and stews
remove rawness of onions, bamboo shoots, burdock or the like
Beauty Water
It is a weak acidic water that can be used in enhancing the natural beauty of the skin. Due to its weak acidic nature, it can tone the skin after a bath or shower and it is effective to help close the pores after washing our face too.
Clean Water
It is a filtered water that has been filtered through our High Grade, three-layered filter that has the ability to remove impurities, chlorine and lead in the water. It is suitable to use when taking medication or preparing a baby's formula.
For further enquiries, do not hesitate to contact us at +6013-730 2857
Address : 21-02, Jalan Austin Heights 8/3, Taman Mount Austin, 81100 Johor Bahru, Johor.